Erlijn has established and led several social ventures, currently she is with Ashoka, worlds' largest international network of system changing social entrepreneurs and innovators. Being a social entrepreneur herself she has a hands-on attitude, and a deep understandig of what's going on in the field of Social innovation and Social Entrepreneurship worldwide, with a specific focus on Financial Inclusion.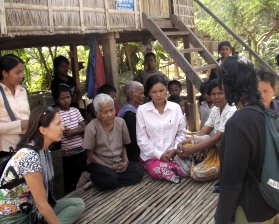 Founder of Kula Loans International (founded in 2018)
Kula Loans International, a foundation investing in groups of people that implement solutions that foster the well-being of their communities. Currently operating in the north of India.
(Co-) Director of Ashoka Nederland (2015-2018)
Ashoka Nederland is the Dutch chapter of Ashoka: world's largest network of social entrepreneurs worldwide, with over 3,000 Ashoka Fellows in 70 countries putting their system changing ideas into practice on a global scale.
Transition Manager at Banking with the Poor (2011-2012)
Banking with the Poor Network is the Asia-wide microfinance network that works towards building efficient, large-scale sustainable microfinance organisations, through co-operation, advocacy and capacity building with the aim of achieving greater Financial Inclusion.
Manager at HandsOn Microkrediet (2008-2010)
"HandsOn Microcredit" was a Dutch MFI providing micro credits and business development services to starting micro entrepreneurs in the Netherlands. An innovator at the time, being the first MFI in the Netherlands.
Co-founder of Microkrediet voor Moeders (founded in 2005)
"Micro credit for Mothers", a Dutch MFI providing small loans in South & Southeast Asia to the poorest of the poor to invest in income-generating activities.